MARTYRS OF KOREA († 1791-1888)
[I]
[The Romanization of the names of the Korean martyrs are presented in two manners: the first using the McCune-Reischauer System, and the second, the system implemented by the Ministry of Culture and Tourism of South Korea.
McCune-Reischauer was originally used by the Korean Catholic Bishops Conference. As it has been the practice, the martyr's baptismal name in Latin is added to the Romanized Korean name. This is the way that the names of the canonized martyrs have been promoted in literature. Because of this, the editors of the Hagiography Circle have decided to retain the McCune-Reischauer transliteration in the website.
In July 2000, the South Korean Ministry of Culture and Tourism implemented a Revised Romanization System. Since 28 February 2002, this has been the official method used for transliterating Korean proper names into English. Nowadays, in fact, one may encounter the Romanization of the names of the canonized martyrs using this system. To help researchers using our resources, our editors have decided to present the names of these martyrs following this system - typed in italics and with the baptismal names enclosed in brackets - after the McCune-Reischauer transliteration. For the sake of more advanced researchers, we also decided to include the names of the martyrs in Hangul.]
[1] KIM TAE-GŎN ANDREAS, CHŎNG HA-SANG PAULUS
AND 101 COMPANION MARTYRS OF KOREA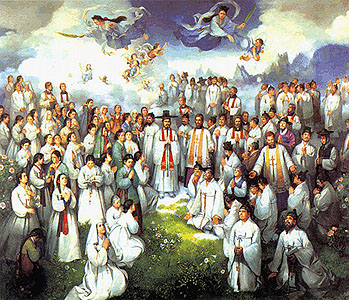 25 November 1838 in Seoul Prison (South Korea)
1. YI HO-YŎNG PETRUS *
YI HO-YEONG [PETEURO] 이호영 베드로
layperson of the apostolic vicariate of Korea
born: 1803 in Icheon, Gyeonggi-do (South Korea)
20 May 1839 in Seoul Prison (South Korea)
2. CHŎNG KUK-BO PROTASIUS *
JEONG GUK-BO [PEUROTASIO] 정국보 프로타시오
layperson of the apostolic vicariate of Korea; married
born: 1799 in Songdo, Gyeonggi-do (South Korea)
24 May 1839 at the Small West Gate, Seoul (South Korea)
3. KIM ŎB-I MAGDALENA *
GIM EOB-I [MAGDALLENA] 김업이 막달레나
layperson of the apostolic vicariate of Korea; married
born: 1774 in Seoul (South Korea)
4. PAK A-GI ANNA *
BAK A-GI [ANNA] 박아기 안나
layperson of the apostolic vicariate of Korea; married
born: 1783 in Kangchon, Gangwon-do (South Korea)
5. YI SO-SA AGATHA *
YI SO-SA [AGATA] 이소사 아가타
layperson of the apostolic vicariate of Korea; married
born: 1784 in Icheon, Gyeonggi-do (South Korea)
6. KIM A-GI AGATHA *
GIM A-GI [AGATA] 김아기 아가타
layperson of the apostolic vicariate of Korea; married
born: 1787 in Seoul (South Korea)
7. YI KWANG-HŎN AUGUSTINUS *
YI GWANG-HEON [AUGUSEUTINO] 이광헌 아우구스티노
layperson of the apostolic vicariate of Korea; catechist; married
born: 1787 in Kwangju, Gyeonggi-do (South Korea)
8. HAN A-GI BARBARA *
HAN A-GI [BAREUBARA] 한아기 바르바라
layperson of the apostolic vicariate of Korea; married
born: 1792 in Kwang-chon, Gangweon-do (South Korea)

9. PAK HŬI-SUN LUCIA *
BAK HEUI-SUN [LUCHIA] 박희순 루치아
layperson of the apostolic vicariate of Korea
born: 1801 in Seoul (South Korea)
10. NAM MYŎNG-HYŎK DAMIANUS *
NAM MYEONG-HYEOK [DAMIANO] 남명혁 다미아노
layperson of the apostolic vicariate of Korea; catechist; married
born: 1802 in Munan, Seoul (South Korea)
11. KWŎN TŬG-IN PETRUS *
GWEON DEUG-IN [PETEURO] 권득인 베드로
layperson of the apostolic vicariate of Korea; married
born: 1805 in Gyeonggi-do (South Korea)
27 May 1839 in Seoul Prison (South Korea)
12. CHANG SŎNG-JIB IOSEPHUS *
JANG SEONG-JIB [YOSEP] 장성집 요셉
layperson of the apostolic vicariate of Korea; married
born: 1786 in Seoul (South Korea)
27 May 1839 in Seoul (South Korea)
13. KIM BARBARA *
GIM [BAREUBARA] 김 바르바라
layperson of the apostolic vicariate of Korea; married
born: 1805 in Si-heung, Gyeonggi-do (South Korea)
14. YI BARBARA *
YI [BAREUBARA] 이 바르바라
child of the apostolic vicariate of Korea
born: 1825 in Jeongpa, Seoul (South Korea)
20 July 1839 at the Small West Gate, Seoul (South Korea)
15. KIM NO-SA ROSA *
GIM NO-SA [ROSA] 김로사 로사
layperson of the apostolic vicariate of Korea; married
born: 1784 in Seoul (South Korea)
16. KIM SŎNG-IM MARTHA *
GIM SEONG-IM [MAREUTA] 김성임 마르타
layperson of the apostolic vicariate of Korea; married
born: 1787 in Pupyeong, Gyeonggi-do (South Korea)
17. YI MAE-IM THERESIA *
YI MAE-IM [TERESA] 이매임 데레사
layperson of the apostolic vicariate of Korea
born: 1788 in Pongch'ŏn, Seoul (South Korea)
18. KIM CHANG-GŬM ANNA *
GIM JANG-GEUM [ANNA] 김장금 안나
layperson of the apostolic vicariate of Korea; married
born: 1789 in Seoul (South Korea)
19. YI KWANG-NYŎL IOANNES BAPTISTA *
YI GWANG-NYEOL [YOHAN] 이광렬 요한
layperson of the apostolic vicariate of Korea; catechist
born: 1795 in Gwangju, Gyeonggi-do (South Korea)
20. YI YŎNG-HŬI MAGDALENA *
YI YEONG-HEUI [MAGDALLENA] 이영희 막달레나
layperson of the apostolic vicariate of Korea
born: 1809 in Pongcheon, Seoul (South Korea)
21. KIM NUSIA LUCIA *
GIM NUSIA [LUCHIA] 김 루치아 루치아
young layperson of the apostolic vicariate of Korea
born: 1818 in Gangcheon, Seoul (South Korea)
22. WŎN KWI-IM MARIA *
WEON GWI-IM [MARIA] 원귀임 마리아
young layperson of the apostolic vicariate of Korea
born: 1818 in Yongmeo Ri, Goyang Gun, Gyeonggi-do (South Korea)
03 September 1839 at the Small West Gate, Seoul (South Korea)
23. PAK K'ŬN-AGI MARIA *
BAK KEUN-AGI [MARIA] 박 큰아기 마리아
layperson of the apostolic vicariate of Korea
born: 1786 in Seoul (South Korea)
24. KWŎN HŬI BARBARA *
GWEON HEUI [BAREUBARA] 권희 바르바라
layperson of the apostolic vicariate of Korea; married
born: 1794 in Seoul (South Korea)
25. PAK HU-JAE IOANNES *
BAK HU-JAE [YOHAN] 박후재 요한
layperson of the apostolic vicariate of Korea; married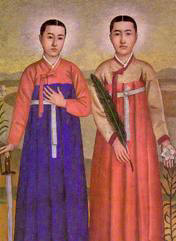 born: 1799 in Yongin, Gyeonggi-do (South Korea)
26. YI CHŎNG-HŬI BARBARA *
YI JEONG-HEUI [BAREUBARA] 이정희 바르바라
layperson of the apostolic vicariate of Korea; married
born: 1799 in Pongcheon, Seoul (South Korea)
27. YI YŎN-HŬI MARIA *
YI YEON-HEUI [MARIA] 이연희 마리아
layperson of the apostolic vicariate of Korea; married
born: 1804 in Seoul (South Korea)
28. KIM HYO-CH'U AGNES *
GIM HYO-CHU [AGYESEU] 김효주 아녜스
young layperson of the apostolic vicariate of Korea
born: 1816 in Pamseom, Seoul (South Korea)
12 September 1839 in Seoul (South Korea)
29. CH'OE KYŎNG-HWAN FRANCISCUS *
CHOE GYEONG-HWAN [PEURANCHISEUKO] 최경환 프란치스코
layperson of the apostolic vicariate of Korea; married
born: 1805 in Taraekkol, Hongjugun, Ch'ungch'ŏng (South Korea)

21 September 1839 in Saenamteo, Seoul (South Korea)
30. LAURENT-MARIE-JOSEPH IMBERT *
priest, Paris Foreign Missions Society; vicar apostolic of Korea
born: 15 April 1797 in Marignane, Bouches-du-Rhône (France)
31. PIERRE-PHILIBERT MAUBANT *
priest, Paris Foreign Missions Society


born: 20 September 1803 in Vassy, Calvados (France)
32. JACQUES-HONORÉ CHASTAN *
priest of the Paris Foreign Missions Society
born: 07 October 1803 in Marcoux, Basses-Alpes (France)
22 September 1839 at the Small West Gate, Seoul (South Korea)
33. CHŎNG HA-SANG PAULUS *


JEONG HA-SANG [BAOLO] 정하상 바오로
layperson of the apostolic vicariate of Korea; catechist
born: 1795 in Majae (now Neung-nae-ri., Gyeonggi-do (South Korea)
34. YU CHIN-KIL AUGUSTINUS *
YU JIN-GIL [AUGUSEUTINO] 유진길 아우구스티노
layperson of the apostolic vicariate of Korea; married
born: 1791 in Jo Dong, Seoul (South Korea)
26 September 1839 at the Small West Gate, Seoul (South Korea)
35. HŎ KYE-IM MAGDALENA *
HEO GYE-IM [MAGDALLENA] 허계임 막달레나
layperson of the apostolic vicariate of Korea; married
born: 1773 in Yongin, Gyeonggi-do (South Korea)
36. NAM I-GWAN SEBASTIANUS *
NAM I-GWAN [SEBASEUTIANU] 남이관 세바스티아노
layperson of the apostolic vicariate of Korea; catechist
born: 1780 in Chungju, Chungcheong-do (South Korea)

37. KIM IULITTA *
GIM [YURIAETA] 김 율리에타
layperson of the apostolic vicariate of Korea
born: 1784 outside Seoul (South Korea)

38. CHŎN KYŎNG-HYŎB AGATHA *
JEON GYEONG-HYEOB [AGATA] 전경협 아가타
layperson of the apostolic vicariate of Korea
born: 1790 in Seoul (South Korea)
39. CHO SHIN-CH'ŎL CAROLUS *
JO SIN-CHEOL [GAROLLU] 조신철 가롤로
layperson of the apostolic vicariate of Korea
born: 1795 in Hoeyang, Gangwon-do (South Korea)
40. KIM CHE-JUN IGNATIUS *
GIM JE-JUN [INYASIO] 김제준 이냐시오
layperson of the apostolic vicariate of Korea; married
born: 1796 in Myeoncheon, Chungcheong-do (South Korea)
41. PAK PONG-SON MAGDALENA *
BAK BONG-SON [MAGDALLENA] 박봉손 막달레나
layperson of the apostolic vicariate of Korea; married
born: 1796 in Seoul (South Korea)
42. HONG KŬM-JU PERPETUA *
HONG GEUM-JU [PEREUPETUA] 홍금주 페르페투아
layperson of the apostolic vicariate of Korea; married
born: 1804 in Seoul (South Korea)
43. KIM HYO-IM COLUMBA *
GIM HYO-IM [GOLLUMBA] 김효임 골룸바
layperson of the apostolic vicariate of Korea
born: 1814 in Bamseom, Seoul (South Korea)
September 1839 in Seoul Prison (South Korea)
44. KIM "KOP-CH'U" LUCIA *
GIM "GOP-CHU" [LUCHIA] 김 루치아
layperson of the apostolic vicariate of Korea; married
born: 1769 in Seoul (South Korea)
September 1839 in Seoul Prison (South Korea)

45. YI CATHARINA *
YI [GATARINA] 이 가타리나
layperson of the apostolic vicariate of Korea
born: 1783 in Seoul (South Korea)
46. CHO MAGDALENA *
JO [MAGDALLENA] 조 막달레나
layperson of the apostolic vicariate of Korea
born: 1807 in Seoul (South Korea)

21 October 1839 in Seoul Prison (South Korea)
47. YU TAE-CH'ŎL PETRUS *
YU DAE-JEOL [PETEURO] 유대철 베드로
child of the apostolic vicariate of Korea
born: 1826 in Ipjeong dong, Seoul (South Korea)

23 November 1839 in Bo-jeong Prison, Seoul (South Korea)
48. YU SO-SA CAECILIA *
YU SO-SA [JECHILLIA] 유소사 체칠리아
layperson of the apostolic vicariate of Korea; married
born: 1761 in Seoul (South Korea)
29 December 1839 at the Small West Gate, Seoul (South Korea)
49. CHO CHŬNG-I BARBARA *
JO JEUNG-I [BAREUBARA] 조증이 바르바라
layperson of the apostolic vicariate of Korea; married
born: 1782 in Icheon, Gyeonggi-do (South Korea)
50. HAN YŎNG-I MAGDALENA *
HAN YEONG-I [MAGDALLENA] 한영이 막달레나
layperson of the apostolic vicariate of Korea; married
born: 1783 in Seoul (South Korea)
51. CH'OE CH'ANG-HŬB PETRUS *
CHOE CHANG-HEUB [PETEURO] 최창흡 베드로
layperson of the apostolic vicariate of Korea; catechist; married
born: 1787 in Seoul (South Korea)
52. HYŎNG KYŎNG-NYŎN BENEDICTA *
HYEONG GYEONG-NYEON [BENEDIKTA] 현경련 베네딕타
layperson of the apostolic vicariate of Korea; married; catechist
born: 1794 in Seoul (South Korea)

53. CHŎNG CHŎNG-HYE ELISABETH *
JEONG JEONG-HYE [ELLISABES] 정정혜 엘리사벳
layperson of the apostolic vicariate of Korea
born: 1797 in Majae (now Neung-nae-ri), Gyeonggi-do (South Korea)
54. KO SUN-I BARBARA *
GO SUN-I [BAREUBARA] 고순이 바르바라
layperson of the apostolic vicariate of Korea; married
born: 1798 in Seoul (South Korea)
55. YI YŎNG-DŎK MAGDALENA *
YI YEONG-DEOK [MAGDALLENA] 이영덕 막달레나
layperson of the apostolic vicariate of Korea
born: 1812 in Seoul (South Korea)
09 January 1840 in Seoul Prison (South Korea)
56. KIM THERESIA *
GIM [TERESA] 김 데레사
layperson of the apostolic vicariate of Korea; widow; married
born: 1797 in Myeoncheon, Chungcheong-do (South Korea)
57. YI AGATHA *
YI [AGATA] 이 아가타
young layperson of the apostolic vicariate of Korea
born: 1824 in Seoul (South Korea)
20 January 1840 in Seoul (South Korea)
58. MIN KŬK-KA STEPHANUS *
MIN GEUK-GA [SEUTEPANO] 민극가 스테파노
layperson of the apostolic vicariate of Korea; catechist, widower
born: 1788 in Gyeonggi-do (South Korea)
23 January 1840 in Seoul (South Korea)
59. CHŎNG HWA-GYŎNG ANDREAS *
JEONG HWA-GYEONG [ANDEUREA] 정화경 안드레아
layperson of the apostolic vicariate of Korea; catechist
born: 1808 in Cheongsan, Chungcheong-do (South Korea)
30 January 1840 in Seoul (South Korea)
60. HŎ HYŎB PAULUS *
HEO HYEOB [BAOLO] 허협 바오로
layperson of the apostolic vicariate of Korea
born: 1796 in Seoul (South Korea)
31 January 1840 in Dangkogae, Seoul (South Korea)
61. PAK CHONG-WŎN AUGUSTINUS *
BAK JONG-WEON [AUGUSEUTINO] 박종원 아우구스티노
layperson of the apostolic vicariate of Korea; married; catechist
born: 1793 in Seoul (South Korea)
62. HONG PYŎNG-JU PETRUS *
HONG BYEONG-JU [PETEURO] 홍병주 베드로
layperson of the apostolic vicariate of Korea; catechist
born: 1799 in Sŏsan, Chungcheong-do (South Korea)
63. SON SO-BYŎK MAGDALENA *
SON SO-BYEOK [MAGDALLENA] 손소벽 막달레나
layperson of the apostolic vicariate of Korea; married
born: 1802 in Seoul (South Korea)
64. YI KYŎNG-I AGATHA *
YI GYEONG-I [AGATA] 이경이 아가다
layperson of the apostolic vicariate of Korea
born: 1814 outside Seoul (South Korea)
65. YI IN-DŎK MARIA *
YI IN-DEOK [MARIA] 이인덕 마리아
young layperson of the apostolic vicariate of Korea
born: 1819 in Seoul (South Korea)
66. KWŎN CHIN-I AGATHA *
GWEON JIN-I AGATHA [AGATA] 권진이 아가다
young layperson of the apostolic vicariate of Korea; married
born: 1820 in Seoul (South Korea)
01 February 1840 in Dangkogae, Seoul (South Korea)
67. HONG YŎNG-JU PAULUS *
HONG YEONG-JU [BAOLO] 홍영주 바오로
layperson of the apostolic vicariate of Korea; catechist
born: 1802 in Seosan, Chungcheong -do(South Korea)
68. YI MUN-U IOANNES *
YI MUN-U [YOHAN] 이문우 요한
layperson of the apostolic vicariate of Korea; married
born: 1810 in Inchon, Gyeonggi-do (South Korea)
69. CH'OE YŎNG-I BARBARA *
CHOE YEONG-I [BAREUBARA] 최영이 바르바라
young layperson of the apostolic vicariate of Korea; married
born: 1819 in Seoul (South Korea)




29 April 1841 in Tangkogae, Seoul (South Korea)
70. KIM SŎNG-U ANTONIUS *
GIM SEONG-U [ANTONIO] 김성우 안토니오
layperson of the apostolic vicariate of Korea; married; catechist
born: 1795 in Gusan, Gyeonggi-do (South Korea)



16 September 1846 in Saenamteo, Seoul (South Korea)
71. KIM TAE-GŎN ANDREAS *
GIM DAE-GEON [ANDEUREA] 김대건 안드레아
priest of the apostolic vicariate of Korea
born: 21 August 1821 in Solmoi, Chungcheong-do (South Korea)

19 September 1846 in Saenamteo, Seoul (South Korea)
72. HYŎN SŎNG-MUN CAROLUS *
HYEON SEONG-MUN [GAROLLU] 현석문 가롤로
layperson of the apostolic vicariate of Korea; catechist
born: 1797 in Seoul (South Korea)
20 September 1846 in Seoul Prison (South Korea)
73. NAM KYŎNG-MUN PETRUS *
NAM GYEONG-MUN [PETEURO] 남경문 베드로
layperson of the apostolic vicariate of Korea; married; catechist
born: 1797 in Seoul (South Korea)
74. HAN I-HYŎNG LAURENTIUS *
HAN I-HYEONG [LEOURENSIO] 한이형 라우렌시오
layperson of the apostolic vicariate of Korea; married; catechist
born: 1798 in Deoksan, Chungcheong-do (South Korea)
75. U SUR-IM SUSANNA *
U SUR-IM [SUSANNA] 우술임 수산나
layperson of the apostolic vicariate of Korea; widow
born: 1803 in Gwangju, Gyeonggi-do (South Korea)
76. IM CH'I-P'EK IOSEPHUS *
IM CHI-PEK [YOSEP] 임치백 요셉
layperson of the apostolic vicariate of Korea; married
born: 1804 in Seoul (South Korea)
77. KIM IM-I THERESIA *
GIM IM-I [TERESA] 김임이 데레사
layperson of the apostolic vicariate of Korea
born: 1811 in Seoul (South Korea)
78. YI KAN-NAN AGATHA *
YI GAN-NAN [AGATA] 이간난 아가다
layperson of the apostolic vicariate of Korea; widow
born: 1814 in Seoul (South Korea)
79. CHŎNG CH'ŎR-YŎM CATHARINA *
JEONG CHEOR-YEOM [GATARINA] 정철염 카타리나
layperson of the apostolic vicariate of Korea; married
born: 1817 in Suweon, Gyeonggi-do (South Korea)
17 February 1866 in Pyongyang Prison (North Korea)
80. YU CHŎNG-NYUL PETRUS **
YU JEONG-NYUL [PETEURO] 유정률 베드로
layperson of the apostolic vicariate of Korea; married
born: 1837 in Taphyen, Yulli county, near Pyongyang (North Korea)
07 March 1866 in Saenamteo, Seoul (South Korea)

81. SIMÉON-FRANÇOIS BERNEUX **
priest, Paris Foreign Missions Society; vicar apostolic of Korea
born: 14 May 1814 in Château-du-Loir, Sarthe (France)
82. SIMON-MARIE-JUST RANFER DE BRETENIÈRES **
priest, Paris Foreign Missions Society
born: 28 February 1838 in Châlon-sur-Saône, Saône-et-Loire (France)

83. PIERRE-HENRI DORIE **
priest, Paris Foreign Missions Society
born: 23 September 1839 in St-Hilaire-de-Talmont, Vendée (France)
84. BERNARD-LOUIS BEAULIEU **
priest, Paris Foreign Missions Society
born: 08 October 1840 in Langon, Gironde (France)

07 March 1866 at the Small West Gate, Seoul (South Korea)
85. NAM CHONG-SAM IOANNES BAPTISTA **
NAM JONG-SAM [YOHAN] 남종삼 요한
layperson of the apostolic vicariate of Korea
born: 1817 in Chungju, Chungcheong-do (South Korea)
09 March 1866 in Seoul (South Korea)
86. CHŎN CHANG-UN IOANNES BAPTISTA **
JEON JANG-UN [YOHAN] 전장운 요한
layperson of the apostolic vicariate of Korea
born: 1811 in Seoul (South Korea)
87. CH'OE HYŎNG PETRUS **
CHOE HYEONG [PETEURO] 최형 베드로
layperson of the apostolic vicariate of Korea; catechist
born: 1814 in Gongju, Chungcheong-do (South Korea)
11 March 1866 at the Small West Gate, Seoul (South Korea)
88. CHŎNG ŬI-BAE MARCUS **
JEONG EUI-BAE [MAREUKO] 정의배 마르코
layperson of the apostolic vicariate of Korea; widower; catechist
born: 1795 in Yongin, Gyeonggi-do (South Korea)
89. U SE-YŎNG ALEXIUS **
U SE-YEONG [ALLEKSIO] 우세영 알렉시오
young layperson of the apostolic vicariate of Korea
born: 1845 in Seoheung, Hwanghae-do (North Korea)
30 March 1866 in Galmaemot, Boryeong, Chungcheong-do (South Korea)


90. MARIE-NICOLAS-ANTOINE DAVELUY **
priest, Paris Foreign Missions Society; coadjutor vicar apostolic of Korea
born: 16 March 1818 in Amiens, Somme (France)
91. MARTIN-LUC HUIN **
priest, Paris Foreign Missions Society
born: 20 October 1836 in Guyonvelle, Haute-Marne (France)
92. PIERRE AUMAÎTRE **


priest, Paris Foreign Missions Society
born: 08 April 1837 in Aizecq, Charente (France)
93. CHANG CHU-GI IOSEPHUS **
JANG JU-GI [YOSEP] 장주기 요셉
layperson of the apostolic vicariate of Korea; catechist
born: 1803 in Suwŏn, Kyŏnggi-do (South Korea)
94. HWANG SŎK-TU LUCAS **
HWANG SEOK-DU [LUKA] 황석두 루가
layperson of the apostolic vicariate of Korea; married; catechist
born: 1813 in Yŏnp'ung, Ch'ungch'ŏng (South Korea)
18 May 1866 in Gongju Prison, Chungcheong-do (South Korea)
95. SON CHA-SŎN THOMAS **
SON JA-SEON [TOMASEU] 손자선 토마스
layperson of the apostolic vicariate of Korea
born: 1839 in Deoksan, Chungcheong-do (South Korea)
13 December 1866 in Supjeong-i, Jeongju, Chungcheong-do (South Korea)
96. CHŎNG MUN-HO BARTHOLOMAEUS **
JEONG MUN-HO [BAREUTOLLOMEO] 정문호 바르톨로메오
layperson of the apostolic vicariate of Korea
born: 1802 in Imcheon, Chungcheong-do (South Korea)
97. CHO HWA-SŎ PETRUS **
JO HWA-SEO [PETEURO] 조화서 베드로
layperson of the apostolic vicariate of Korea; married
born: 1815 in Suweon, Gyeonggi-do (South Korea)
98. SON SŎN-JI PETRUS **
SON SEON-JI [PETEURO] 손선지 베드로
layperson of the apostolic vicariate of Korea; married; catechist
born: 1820 in Imcheon, Chungcheong-do (South Korea)
99. YI MYŎNG-SŎ PETRUS **
YI MYEONG-SEO [PETEURO] 이명서 베드로
layperson of the apostolic vicariate of Korea; married
born: 1821 in Chungcheong-do (South Korea)
100. HAN WŎN-SŎ IOSEPHUS **
HAN WEON-SEO [YOSEP] 한재권 요셉
layperson of the apostolic vicariate of Korea; catechist
born: 1836 in Jinjam, Chungcheong-do (South Korea)
101. CHŎNG WŎN-JI PETRUS **
JEONG WEON-JI [PETEURO] 정원지 베드로
young layperson of the apostolic vicariate of Korea; married
born: 1846 in Jinjam, Chungcheong-do (South Korea)
23 December 1866 in Supjeong-i, Jeongju, Chungcheong-do (South Korea)
102. CHO YUN-HO IOSEPHUS **
JO YUN-HO [YOSEP] 조윤호 요셉
young layperson of the apostolic vicariate of Korea; catechist
born: 1848 in Sinchang, Chungcheong-do (South Korea)
21 January 1867 in Daegu, Gyeongsangbuk-do (South Korea)
103. YI YUN-IL IOANNES **
YI YUN-IL [YOHAN] 이윤일 요한
layperson of the apostolic vicariate of Korea; married
born: 1823 in Hongju, Chungcheong-do (South Korea)
competent forum: Seoul and others
CCS protocol number: 1333 [formerly prot. no. 667 (**)]
type of cause: martyrdom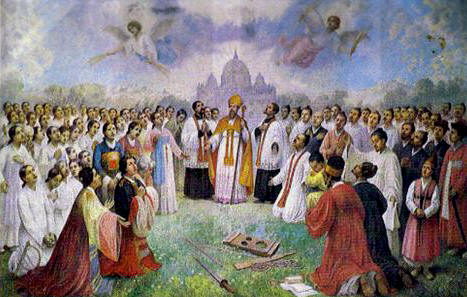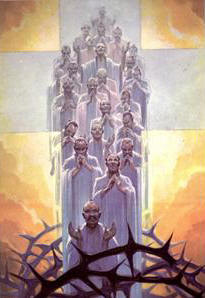 opening of diocesan inquiry:
closing of diocesan inquiry:
decree on writings:
introduction of cause:
decree « non cultu »:
opening of apostolic process:
closing of apostolic process:
decree on validity of informative and apostolic processes:
antepreparatory congregation:
preparatory congregation:
general congregation:
promulgation of decree on martyrdom: 09 May 1925 (*); 04 July 1968 (**)
beatification: 05 July 1925 (*); 06 October 1968 (**)
decree on resumption of cause: 13 April 1978
canonization: 06 May 1984
information: Catholic Bishops Conference of Korea, Seoul 100-600, P.O. Box 16, KOREA
[Martyrs of Korea (II): Yun Ji-chung Paulus and 123 Companions;
Martyrs of Korea (III): Yi Byoek Ioannes Baptista and 132 Companions;
Modern Martyrs of Korea: Hong Yong-ho Franciscus Borgia and 80 Companions]
website: www.koreanmartyrs.or.kr/saint103_1.php